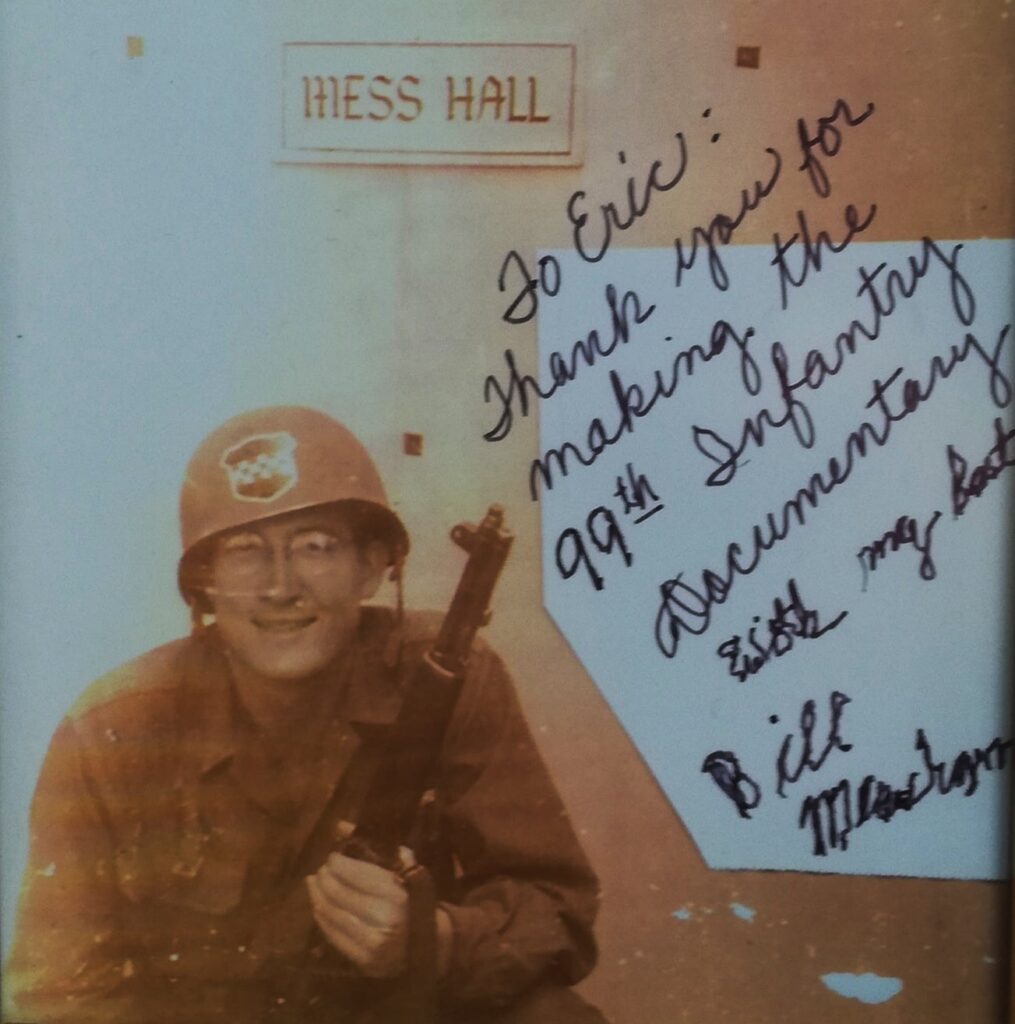 William "Bill" Meacham, WWII Veteran – 393rd Infantry Regiment, 99th Infantry Division
Born in Fort Worth, Texas, Bill's journey through the war reflects the remarkable contributions of the Greatest Generation.
Drafted into the American Specialized Training Program (ASTP), Bill's path took an unexpected turn when the program was disbanded due to the urgent need for infantry riflemen. This led him to be assigned to the 99th Infantry Division, specifically the 393rd Infantry Regiment, a unit that would play a significant role in the European theater.
Hailing from Fort Worth, Texas, Bill's journey from the Lone Star State to the battlefields of Europe was marked by unique experiences. His tales of boot camp and training reveal the grit and determination that defined his character.
Bill's wartime experiences reflect his incredible courage and unwavering commitment. He journeyed with the 99th Division to Europe, where he participated in pivotal moments in history. His memories are a vivid chronicle of the Division's arrival in England, subsequent deployment to France, and eventual positioning in Belgium just prior to the onset of the Battle of the Bulge. Bill's recollections paint a vivid picture of the combat actions, the fierce battles against both the enemy and the elements, and the camaraderie that defined his unit.
In the crucible of war, Bill saw action not only during the Battle of the Bulge but also in the Cologne Plain, Rhur Pocket, and Remagen Bridge battles. He bore witness to the staggering toll of these battles, particularly the devastating loss of comrades during the December 16th attack. Bill's experience was punctuated by his own shrapnel wound from an artillery attack, a testament to his sacrifice and dedication.
Bill's humility and modesty shone through both in combat and in later years. He served alongside Medal of Honor recipient Vernon McGarity in Company L of the 393rd Regiment, contributing to the actions that earned McGarity this esteemed recognition.
After the war, Bill pursued higher education and earned a Ph.D. in Biology. He went on to become the Dean of the Science Department at The University of Texas at Arlington, leaving a lasting impact on academia and his students.
Bill's commitment to his fellow veterans endured long after the war. Actively participating in 99th Infantry Division reunions and ASTP reunions, he embodied the spirit of camaraderie that defined his generation.
Today, we honor William "Bill" Meacham for his extraordinary service, his courage in the face of adversity, and his lifelong dedication to education and community. His legacy stands as a testament to the sacrifices made by individuals like him, ensuring that their stories continue to inspire and guide us.